New Volkswagen Where Can I Pre-Order 2022 VW ID.4 in San Antonio for Sale in San Antonio, TX
Where Can I Pre-Order 2022 VW ID.4 in San Antonio


View Inventory
The 2022 VW ID.4 is a once in a lifetime EV. Today's demanding auto shoppers want something that's entirely their own, something that reflects a flair for life. The model itself was an extreme undertaking by Volkswagen, and it shows in every carefully crafted splash of color and chrome. The ordering process is special for this one, too. You start a pre-order 2022 VW ID.4 in San Antonio by customizing it exactly to your tastes. Once you've got things just right, you'll track your model from factory to your Ancira Volkswagen of San Antonio. Complete your financing arrangement, and take it home with you forever. Now that you know where can I pre-order 2022 VW ID.4 in San Antonio, we're here to show you why you need to pre-order today.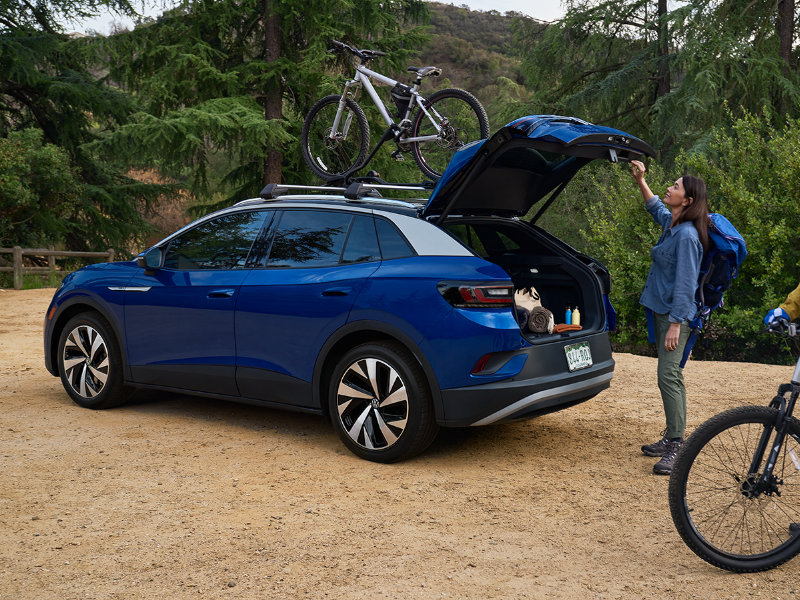 Exterior – Volkswagen Dealer serving San Antonio TX
Once glance at the compact ID.4 is enough to make any San Antonio resident ask where can I pre-order 2022 VW ID.4 in San Antonio? The model's LED exterior lighting doesn't stop at the carefully angled headlamps. There's a light bar across the entire front of the model, stylishly glowing and central to the model's design. Unlike regular SUV hood profiles, the model's hood has highly angled, jagged embellishments that create a "not of this century" look. The hood line itself ends and leads into a front-end body-color area that runs parallel to the LED light bar. 20-inch wheels are a certainty on the model, too.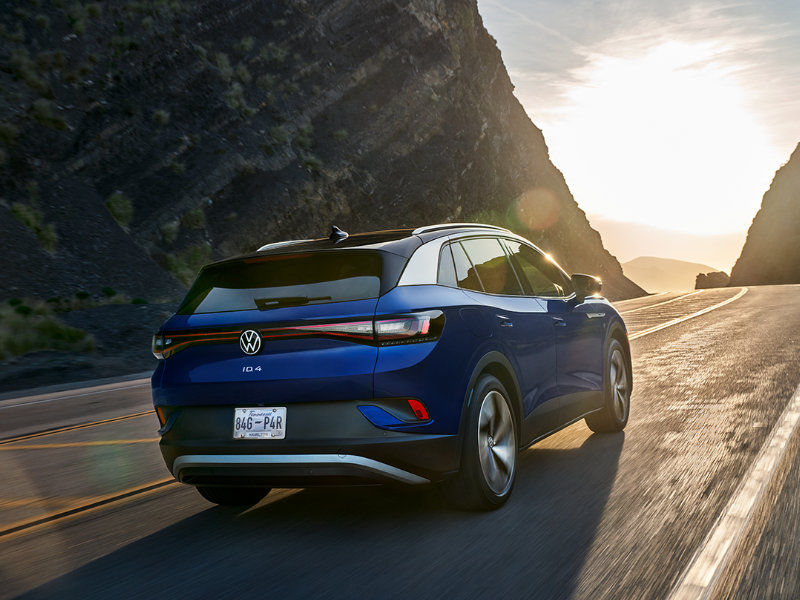 Electric SUVs have standards of a greater magnitude to live up to. Their environmentally responsible, noble design makes for higher expectations on other areas of the model as well. When you're about to pre-order 2022 VW ID.4 in San Antonio, you can do so with the confidence that your inside is going to be just as beautiful as the outside. The delicately crafted interior features practical specifications, such as 64.2 cubic feet of cargo capacity and 37.6 inches of rear legroom. It also has innovative, exclusive features like the dash's "intuitive light bar" that spans across the dash and responds to audio, incoming calls, and even driver-assist features. When you need a heads-up about something important, look to the light. A 12-inch touchscreen reads like a list of all the things that matter to you in life. It begins with telephone, radio/media, navigation, and vehicle, and continues to your apps/connections and even ambient light settings. Click on what matters to you and customize. Interior fabrics will be announced very shortly and Ancira Volkswagen of San Antonio will update, but you can obviously expect something elegant here, such as leather-trimmed or perforated leather seating.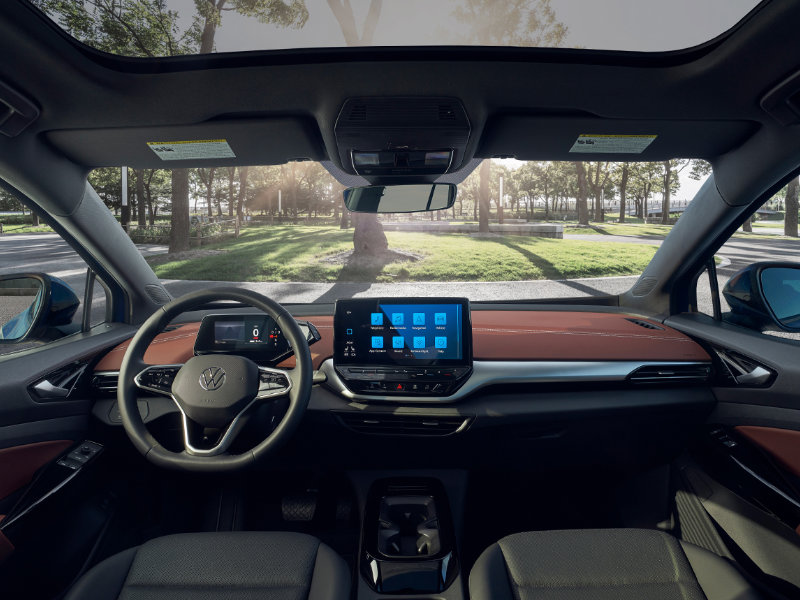 Volkswagen ID.4 Mechanical specs
Electric SUVs that do away with gasoline power are often held to a higher standard mechanically. You don't just want power. There must be a design that stays faithful to the efficiency and precision of an EV SUV. The 2022 ID.4 gets terrific grades here. It was very important to Volkswagen to make an electric design that didn't require drivers to give up anything in the way of thrills. That's why they've engineered the ID.4 with instant torque. You don't have to let the model warm up here or tap your finger on the wheel while you wait to move. This one sprints on-demand.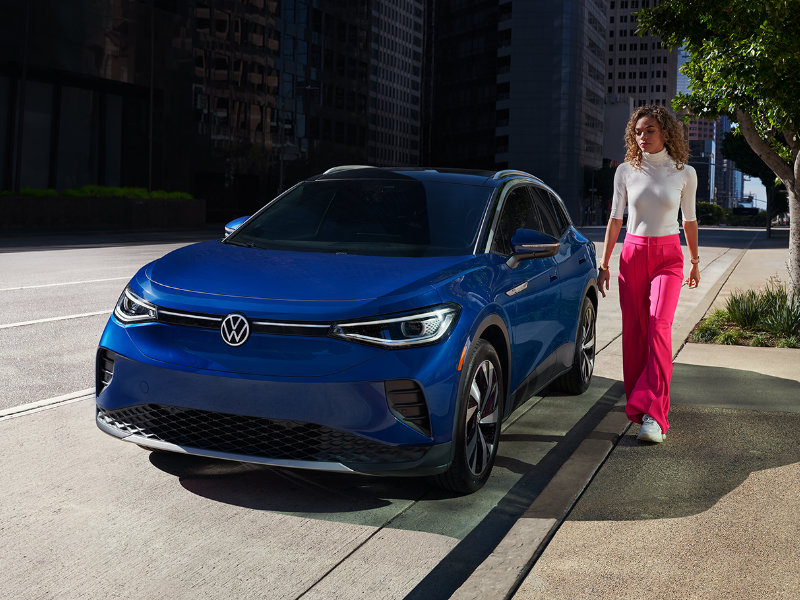 Powertrain – Volkswagen Dealership in San Antonio TX
The range of the model is between 240 and 260 miles. Confirmed estimates will be available soon. How fast are you going to take off? Let's just say this compact model has plenty of horsepower for you: 201 HP. And with 228 lb-ft of instant torque, you'll always look forward to going anywhere.
Safety – 2022 Volkswagen ID.4 dealer
Confirmed driver-assist features this year include Travel Assist, Rear Traffic Alert, Emergency Assist, and Lane Assist. IQ.DRIVE is designed to handle all driving capabilities, including braking, steering, and acceleration. It's semi-autonomous and safely works with driver inputs to assure that you stay where you need to be. Every ID.4 driver will find an exhilarating, safe drive ahead thanks to this new platform. Many platforms can alert you to trouble, but IQ.DRIVE is actually able to counter-steer against a driver in order to keep an accident from happening. One area where this mechanism works is in the Blind Spot Monitor. You'll know when anything at all is creeping up on your vehicle. If it encroaches on your turf, the ID.4 can counter-steer to sway you away from disaster.
Contact Ancira Volkswagen of San Antonio to learn more about the VW ID.4. This all-electric vehicle has so much to offer your family, and you can reserve it today.