New Volkswagen Compare 2021 VW Atlas Cross Sport vs 2021 Nissan Murano for Sale in San Antonio, TX
Compare 2021 VW Atlas Cross Sport vs 2021 Nissan Murano


View Inventory
The midsize crossover that can seat five is among the fastest-growing automotive segments in America. These vehicles trade in the third row of seats that many drivers do not need for more legroom and cargo space, which both prove to be a significant advantage over the traditional small crossover. One of the most notable nameplates in this class is a relative newcomer: Atlas Cross Sport. Now available at Ancira Volkswagen of San Antonio, the Atlas Cross Sport is Volkswagen design philosophies and sensibilities expressed as a modern American crossover. Another interesting nameplate is the Murano from Nissan. It sometimes gets lost in the shuffle amidst the Rogue and Pathfinder but is rather impressive in its own right. With that in mind, let us compare the 2021 VW Atlas Cross Sport vs 2021 Nissan Murano and see how they measure up with an emphasis on which model may be the better choice for you.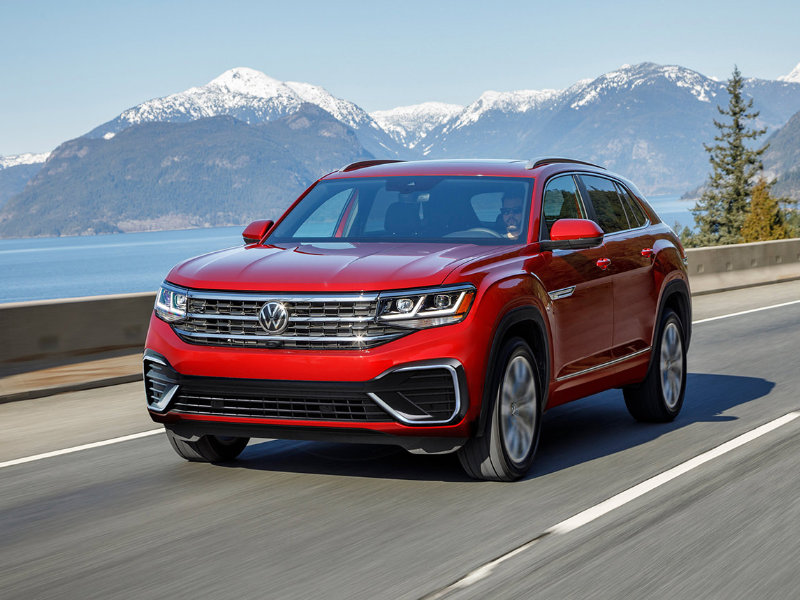 Exterior – Volkswagen Dealer serving San Antonio TX
Automotive aesthetics are a matter of opinion, but we think most consumers will agree that these are both sharp-looking CUVs. Both share a fastback roofline, but Volkswagen has opted for a boxier and more industrial design whereas Nissan went for a sleeker and more modern appearance. Both vehicles are similar in overall size. The 2021 VW Atlas Cross Sport measures 195.5 inches in total length, which is approximately 16.3 feet, and the Murano measures 192.8 inches. Despite that similarity, the Cross Sport has a 117.3-inch wheelbase whereas the Murano wheelbase is just 111.2 inches. That fact will be important in a moment when we discuss the cabin. The vehicles are the same height at 67.8 inches without roof rails. The Volkswagen model is wider—78.4 vs 75.4 inches without mirrors—and it provides greater minimum ground clearance—8.0 vs 6.9 inches—and a taller driving position.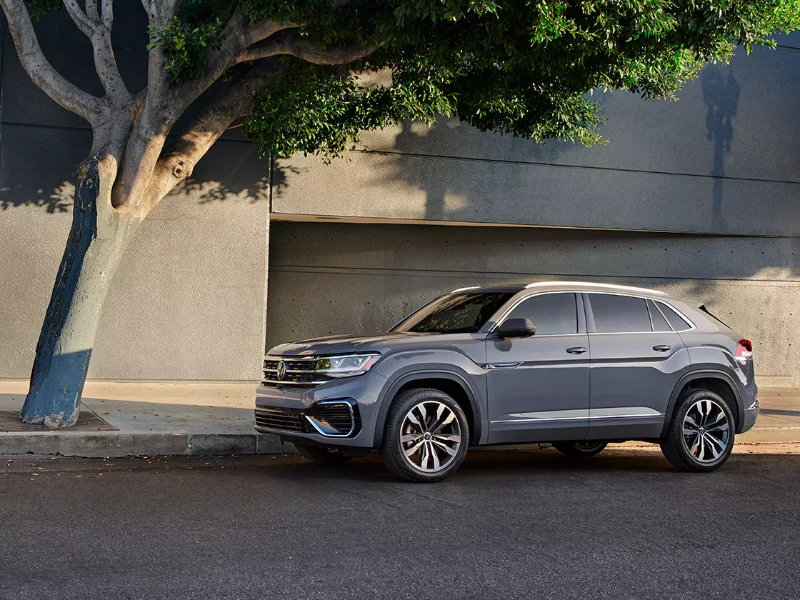 There are pros and cons to choosing a shorter or longer wheelbase, and discussing them all is beyond the scope of this comparison. That said, when a focal point of an automotive design is maximizing legroom and cargo space, a shorter wheelbase is absolutely a disadvantage and one that manifests here. Both models are midsize five-passenger vehicles, but the Volkswagen offers almost 10 cubic feet of additional passenger volume than the 2021 Nissan Murano. The Cross Sport affords the driver and front passenger more than an inch of additional legroom at almost 42 inches. It also offers about 6 inches of additional shoulder and hip room, which is considerable. Volkswagen provides more than 40 inches of rear legroom, which is nearly 2 inches more than the Murano. The Cross Sport also provides you with more than 31 cubic feet of dedicated cargo space, which is about 30% more than the Murano.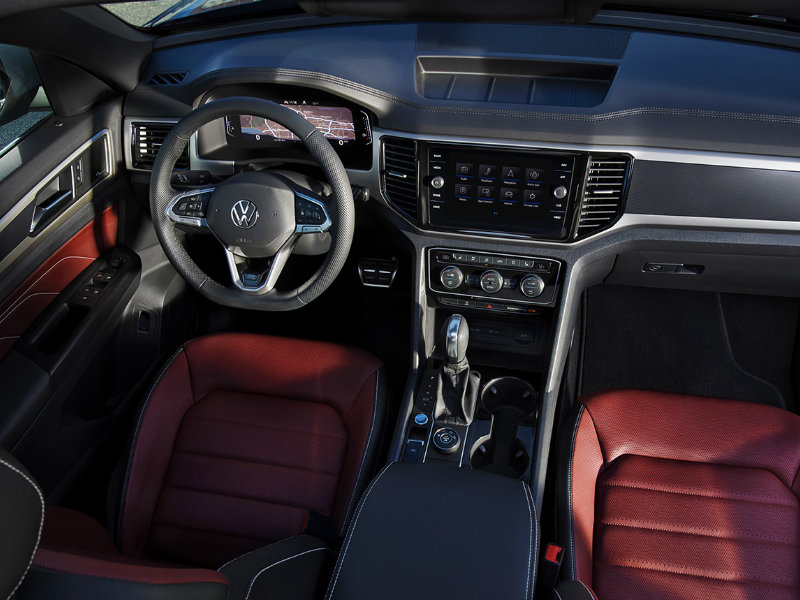 Volkswagen Atlas Cross Sport Mechanical specs
These vehicles are similar in that front-wheel drive is standard and all-wheel drive is optional, but that is where the similarities end in the mechanical portion of this 2021 VW Atlas Cross Sport vs 2021 Nissan Murano comparison. All 2021 Nissan Murano have the same powertrain: a continuously variable transmission mated to a 3.5-liter V6 engine rated for 260 horsepower and 240 pound-feet of torque. With trailering equipment, the Murano can tow as much as 1,500 pounds. Volkswagen offers two engines. Both are paired to an eight-speed automatic transmission, which most automotive journalists agree is superior to a CVT. The base engine is a 2.0-liter turbocharged four-cylinder rated for 235 hp and 258 lb.-ft. Models with this engine can tow up to 2,000 pounds. The optional engine is a 3.6-liter V6 rated for 276 hp and 255 lb.-ft. Models with this engine can tow as much as 5,000 pounds.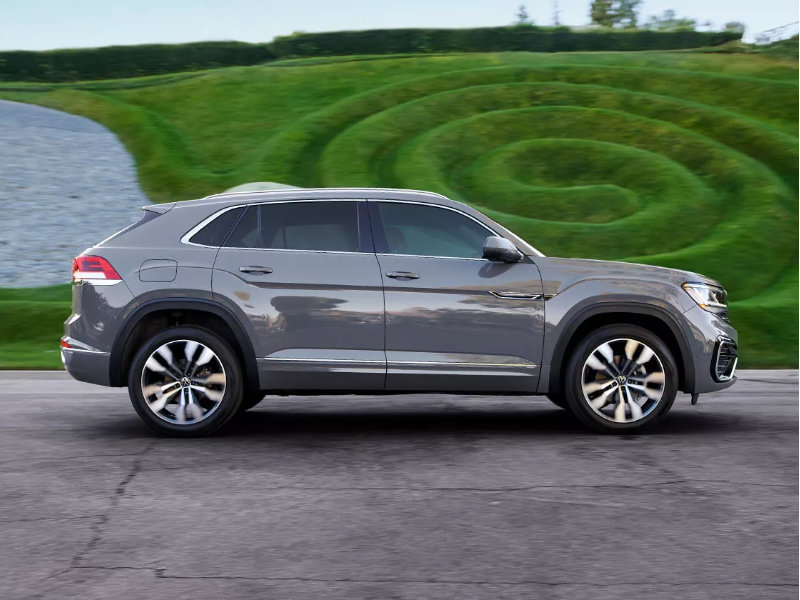 Tech – Volkswagen Dealership in San Antonio TX
Both the 2021 VW Atlas Cross Sport and 2021 Nissan Murano feature a modern and robust infotainment touchscreen with displays as large as 8 inches. Feature sets include a rearview camera system, Apple and Android integration, connected services and more in both cases. Much of the driver-assistance tech available for one of these models is available for the other. Therefore, we will focus on three technologies that Volkswagen offers that Nissan does not: blind-spot intervention, traffic sign recognition for the adaptive cruise control system and a parallel parking assistance system.
Have more questions about how the 2021 VW Atlas Cross Sport compares to the 2021 Nissan Murano? Let your local Volkswagen team at Ancira Volkswagen of San Antonio help. You can visit our showroom to speak with a salesperson and test-drive the Cross Sport at your convenience. Our team can also assist you via text and email, and our website offers a wide range of online shopping tools!